Menthol Hits Minnesota Communities Hard
And How Quit Partner Can Help
If you smoke menthols, it's likely that the cooling sensation, in addition to nicotine, was what originally hooked you. That was Big Tobacco's plan all along. Chances are also high that you're a member of the African American, American Indian and/or LGBTQ+ communities, because Big Tobacco has targeted their advertising in the places you live, work and play to keep menthol top-of-mind. We offer free support and resources to help you quit in a way that fits your needs.
74% of adult African Americans who smoke use menthols vs. 25% of adults overall.1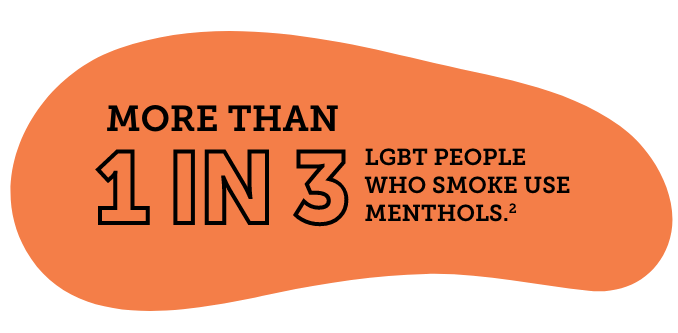 Menthol is marketed more in racially and ethnically diverse, low-income neighborhoods.3
Harder to Quit, But We're Here to Help
A Minnesota survey5 of African Americans who smoke found that:

Almost half (44%) think that menthols are less harmful, even though they're not.6
Almost three in four (72%) say menthol makes it harder to quit. If you have smoked menthols, you may agree.

At Quit Partner, we understand how tricky it can be to leave menthols behind. We're here with free help to quit your way with the right mix of support that can double your chances of quitting for good.
1 Minnesota Department of Health. Menthol-Flavored Tobacco Products

Retrieved July 29, 2020.
2 National Library of Medicine. Menthol cigarette smoking among lesbian, gay, bisexual, and transgender adults

Retrieved July 29, 2020.
3 National Center for Biotechnology Information. A Systematic Review of Neighborhood Disparities in Point-of-Sale Tobacco Marketing

Retrieved July 29, 2020.
4 ClearWay, Minnesota. Tribal Tobacco Use Project Survey Report 2013 (PDF)

Retrieved July 29, 2020.
5 Minnesota Department of Health. 2015 Menthol Cigarette Intervention Grant

Retrieved July 29, 2020.
6 Centers for Disease Control and Prevention. Menthol and Cigarettes

Retrieved July 29, 2020.

Ready to Get Started?
Sign Up
Or call: 1-800-QUIT-NOW (784-8669) Or teens/young adults can text "Start" to: 36072*